Deja vu all over again
Two great American pastimes intersected this past weekend:  weather prognostication and football, in the forms of Groundhog Day and Super Bowl Sunday.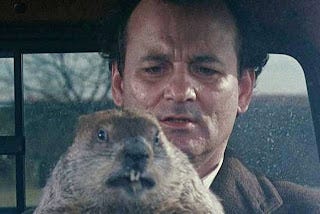 Both are now spectacles that have evolved far beyond their humble beginnings.  Regarding the Super Bowl, I am always awed by the sheer magnitude of this often-not-so-special event.  Some big facts about the 2013 Super Bowl:

7.5 million TVs will be bought for the game.

Nearly $4 million will be spent per 30-second ad during the game.

1.2 billion chicken wings will be consumed and 50 million cases of beer will be quaffed.

2 billion gallons of water will be used to flush those wings and beer away.

7 million people will call in sick on Monday

Groundhog Day is a less over-the-top affair, even in Punxsutawney, and whatever the predicted outcome.  Whether early spring or more weeks of winter, February 2nd heralds repeated opportunities to catch one of my favorite movies, Groundhog Day.  It's a classic American business morality tale.


What, you say, does this Bill Murray romantic comedy have to do with business?  I often hear from business owners the lament "we're in a rut."  Usually, it is a complaint leveled at staff, and without the proper level of introspection and consequent corrective action.

Consider the personal journey of Phil Connors:

Phil (Bill Murray) is gliding blissfully through life, succeeding in his own egocentric way until an external event disrupts his usual modus operandi.

He refuses to recognize that his situation has changed.

He initially tries to alter the reality by forcing his will on the situation rather than by adapting to it.  He fails repeatedly.  And miserably. (And hilariously.)

Only when he alters his focus from internal to external does he gain the perspective he needs to make positive change, and escape his time warp.

It is easy to fall into a "same old, same old" routine.  If you are feeling stuck in time and place, look outward:  ask your team "what needs to be done?"  You might not get the answer you expect, and that might be a lesson you need to absorb.


<br /><br />