Is grease the word?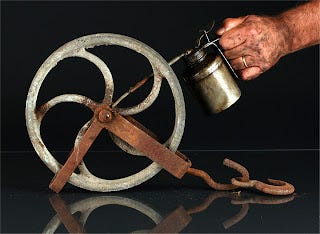 "I hate to be a kicker,
I always long for peace,
But the wheel that does the squeaking,
Is the one that gets the grease."
 -- Josh Billings, "The Kicker," ca. 1870

I'm sure that most of you are familiar with the "squeaky wheel" adage, the origin of which is credited to the poem above. Josh Billings was a 19th century American humorist, second in popularity in his time only to Mark Twain.

For business owners, the Squeaky Wheel syndrome is no laughing matter.  You want happy customers, not disgruntled ones. Organizations go great lengths and invest great sums to ensure that their organizations not only understand best practices but execute them flawlessly.  Some succeed, some don't: There are both customer service Halls of Fame and Halls of Shame. 

In a recent discussion about the book Raving Fans, a bestseller about how to make great service a competitive advantage, business owners discussed how they instilled and practiced the "customer first" mentality in their companies.



One retailer described how he sends notes and small gifts to customers who have had issues, whether real or imagined.  Asked if she did this for all unhappy customers, she replied "no," but more often than not.  Then she was asked what she sends her "best" customers...the ones who buy most frequently, spend the most, are most active on the company's social media pages.  After some uncomfortable, but thoughtful silence, the answer was, "nothing, but that will now change." 

Squeaky wheels surely need attention.  But make sure that the silent wheels, the ones carrying the load for your business without issue or complaint, are well cared for and properly maintained.  You may not always hear them, but you'll notice them when they are gone.  And you'll save on grease, which is literally and metaphorically both messy and expensive.