Land of the free
-->
So, how did you spend your free day on Wednesday?  You, know, February 29, aka Leap Day.
Ladies, did you channel your inner Sadie Hawkins?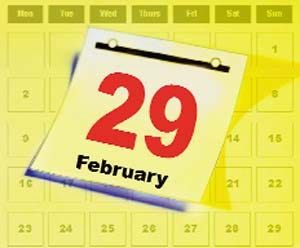 Dudes, did you take it head on, mano-a-mano.

Was it a day of routines, deadlines, accomplishments, chores, sports, striving.  Just another day; one of 365 366? 
Pity if you didn't leverage this quadrennial opportunity. 
It was FREE.  What do you mean that  you didn't take advantage of it?  What's wrong with you?  Don't you love free stuff?  Doesn't everybody?  Didn't you get the memo?
It seems that there's a offer of "free" everywhere you look:  Buy One/Get One Free; Free Estimates; Free Consultation; Free Delivery.  Consumers lap it up.  And why not, it's FREEEE!
No wonder the country is broke.  We're giving it all away.  Increasingly so.  Hard to make a buck that way, isn't it?
The business owner knows that just as there's no free lunch, there's no free free, either.
The plumber who quoted me on replacing the sink in my kitchen, knows very well the embedded cost of providing that free service: the hard costs...the gas, payments on the truck, insurance, suspenders for his pants....and the "soft" costs: the value of his time, his experience and expertise.   The cost of his "free" estimates -- those hours and expenditures (we won't get into taxes and benefits) are not free to him and he should not be chary about the price he charges for his services.  All of that is computed into the hourly rate he charges...hopefully, or he won't be around to honor the warranty.
Every pen or calendar handed out at a Chamber event, every wine tasting held on a snowy Tuesday evening, every gift shipped free, has an tangible impact on profitability.  As a business owner, you have to decide the ultimate utility value of your giveaways.
What's your cost of free?

Have you raised your prices to compensate?

How do you offer free stuff, regularly or occasionally?

Do you track the results of your freebies?  What business result do they generate?
Bottom line:  don't be too free with giving it away.