Swing and a...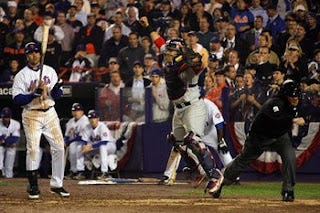 Baseball's spring training has commenced.  I know this by the calendar, and by the fact that I've been hearing baseball cliches more frequently in recent business meetings.

"I've told my people that I want them to be more aggressive.  Have a plan and swing the bat," one CEO told me recently. "It's OK for them to strike out, but I want them swinging."

This statement brought to mind the 2006 National League Championship Series (NLCS), when NY Mets outfielder Carlos Beltran was at the plate in a situation that many who play baseball dream about:  deciding game, bases loaded, two outs and the winning run on base.



Beltran had a phenomenal year during the 2006 regular season, hitting 41 home runs and driving in 116 runs.  But in this critical situation, with the game, the season and a trip to the World Series on the line, he failed.  He struck out.  In fact, Beltran was caught looking, foiled by a nasty curve ball.  He did not go down swinging.  Does it really make a difference?

In subsequent interviews, Beltran allowed that he had been caught off guard, but by the first pitch, not the last. Cardinals' pitcher Adam Wainwright was known for his explosive fastball and vicious curve, but he started Beltran's at-bat with a change-up, something that Betran had not planned for. So, while Beltran had likely come to the plate with a plan, Wainwright had one too.  (Past the introductory level in all organized sports, everyone has a plan for tackling their opponent.)

While Wainwright might have had a better plan than Beltran, more important was that he also executed better than the Mets batter did.  At a certain point, all planning becomes subordinate to execution.  And the ability to execute comes from a combination of training and repetition.  Most major league players now train all year long; they no longer go to training camp to get in shape, but to sharpen their in-game execution skills through repetition.  Wainwright was able to fool Beltran because he practiced his change-up so that he could execute that pitch just at the right moment.  Game over.

The next time you exhort your team to "go for the fences," ask yourself -- or better yet, ask them -- if they're trained and ready for The Show.  If the answer is "no," get a different game on.  More than just a season may depend on it.